…and the simple resources he has developed produce remarkable, permanent results
"What I suffered is a small price to pay for the tens of thousands of recoveries we have created. Beth and I live for the privelege of seeing lives change because of what we all do. Over 3 million people from around the world have used my anxiety recovery resources… something I never thought possible when I started doing this." Charles Linden – Linden Recovery Founder
Charles Linden was born in Worcestershire in the UK in 1968.
Till Charles was around 14 years old he lived under the belief that the inappropriate, frightening and anxious thoughts, racing heart and other symptoms were 'normal' and that everyone else felt the same way.
Aged 14 Charles experienced a surge in anxiety levels which led him to develop OCD, agoraphobia, Pure O, panic attacks, derealization and depersonalization.
Through the following 13 years, Charles managed his anxiety, still heading into every challenge despite how it made him feel and would often have panic attacks during rugby games, whilst socializing and increasingly more during the 6 years he lived and worked alone in Germany.
It was whilst in Germany that Charles' anxiety became chronic and over the ensuing seven years, Charles became agoraphobic, addicted to tranquilizers, prone to 8-10 panic attacks a day and was 'pushed from pillar to post' by medics and psychologists who gave up on him.
Eventually aged 26 Charles became housebound and desperate, overweight and very unhealthy. Panic attacks, Pure O, OCD, agoraphobia, derealization, depersonalization and inappropriate thoughts dominated his life and it was at this point that he decided that enough was enough and it was time to end his torment.
"I was too afraid to live and too afraid to die… I lived in a limbo state, existing not living. I knew I had a choice to either live this way and die anxious or change things. I opted for the latter."
In a moment of clarity, he knew what to do and with all his experiences at the hand of his anxiety conditions and his realization that the anxiety response could be deactivated by doing the reverse of what had activated it, within days he felt almost totally cured.
Yes, that's me on the right… 70 Lbs heavier than I am now. This is how you look when you are agoraphobic, have 8-10 panic attacks a day, are tanked up on Stelazine, Prozac and Diazepam, HOPING that you can make it through the day. I am holding my god-daughter at our best friend's wedding. Scared to death, but TRYING desperately to hold it together for our friends. This was the month BEFORE I cured myself and the first time I had left the house for three months. Charles Linden
Over the following three months of research, trials and struggles, from a resource he had developed for himself, he developed a Method of recovery that has since been used by over 300,000 people in 57 countries.
Charles gave away his Methods in order to receive feedback from test subjects and over a period of 9 months thousands of test cases were studied in order to refine the Method's structure and content.
This is exactly what clients receive today – a clear, simple, structured Method that works fast with permanent results.
"The Method works because if you are human and have high anxiety, it can't fail. The structures and mechanisms that bring about an anxiety disorder work in the exact same way in every human and the solution simply reverses that process… it really can't fail and I have never personally seen it do so. It makes complete sense."

Charles Linden
Charles called his solution The Linden Method and it now forms the basis of all of Linden Recovery's anxiety elimination solutions including the Home Learning resources, Retreats and Workshops..
Administered by mental health professionals who are overseen by Charles, The Linden Method has become known as a 'new branch of psychological practice' that's integrated into practice under license by health care professionals around the world.
Referals come from health care professional such as doctors, psychologists, psychotherapists and clinics and the Method has become known as a 'new branch of psychological practice'.
Charles is married to Beth who is director of the Retreat and Workshop programs and they have two children, Charles Dylan (now 15) and Florence Bibi (now 12).
Charles and Beth dedicate their lives to helping anxious people from around the world to avoid the pitfalls, potholes and disasters that they experienced and tolerated as Charles went along his anxiety journey. Over the 14 years that they have been helping anxious people, they have personally been party to many thousands of recoveries and despite the, sometimes dreadful, stories they hear, they remain focused on each and every client's wellbeing and recovery.
Beth plays a very active role at the Retreats and runs a "Parents, Partners and Loved Ones' mini-program during the Retreat so that she can offer family members advice and support from the perspective of a carer. Beth and psychologist Jenny Brookes, offer structured and impartial advice and often, the session ends with tears of relief as the loved ones understand exactly what they must do to help the sufferer to recover.
Charles' work takes him all over the world meeting and helping some amazing people.
Here are some photos from Charles' varied work. Charles gets to meet some very interesting people, some he can mention, many he cannot.
Charles with Ricki Lake on her show in Los Angeles
Charles helped Will Young's brother, Rupert, to recover from his anxiety disorders
Charles with Sam Neil and Danny DeVito at the Graham Norton Show
Charles with Miranda Hart at an event
Charles in The Daily Mail with Jemma Kidd
Charles with Gok Wan filming his TV series
Charles helped supermodel, Jodie Kidd, to recover from her anxiety disorders
Charles helped Linda Robson's son Louis, to recover from his anxiety disorders
Charles helped Vogue Editor and 3 times best-selling author, Plum Sykes, to recover from her anxiety disorders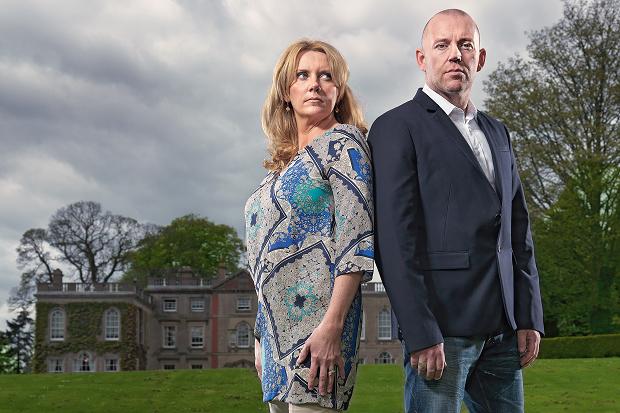 Charles and Beth in the London Times article about their residential recovery Retreats
Glynis Barber – a great friend of Charles' and a wonderful advocate for what he does
Charles and Beth at a recent event